Here's some good news: My painting of the ballerina "Waiting in the Wings" has been acquired by a professional harpist who makes her home in the Berkshires in Massachusetts. Teresa Mango was a college student when she posed for this iconic portrait. When she learned it was available, she drove down to my studio in the Poconos to bring it home. The painting now lives in her music studio, where she and her students can enjoy it. I have to admit I miss having her hanging around the house. Still, I do have a few of the Connections magazines with her image on the cover so that helps keep the memory alive...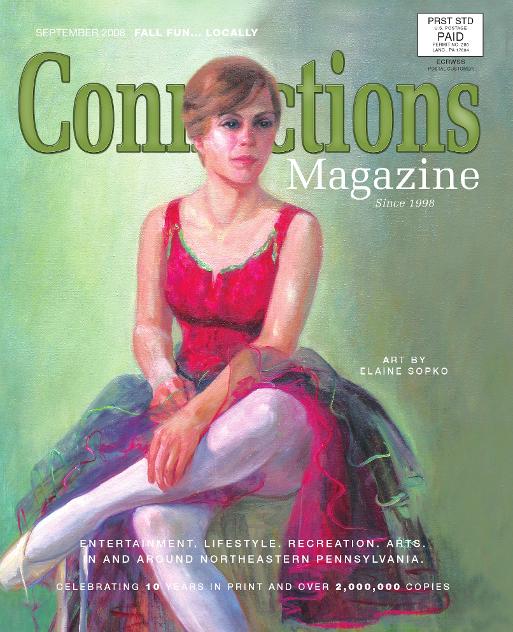 More good news: The painting below: "Tiger, Tiger Burning Bright" has a new home, too. It now lives in New Jersey with the Colucci family. Since we're planning to move into much smaller space in Virginia this year I felt it was time to make these larger works available for those art lovers who will enjoy them as we have.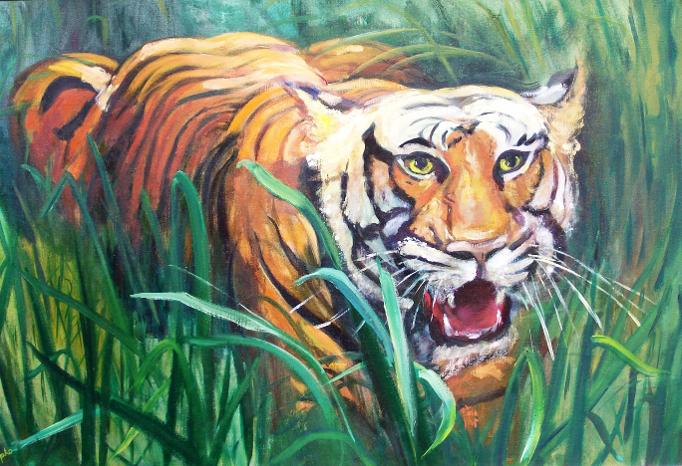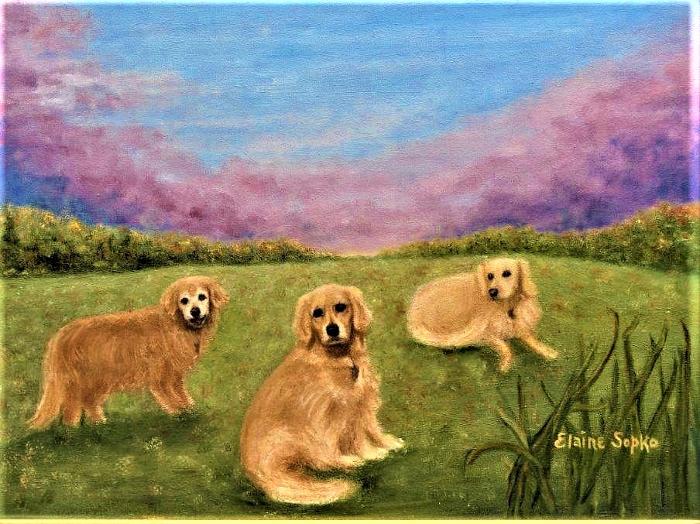 Recently I completed the above portrait of three beloved Golden Retrievers. Shelby, front and center, is top dog at her home in Tamiment. Her predecessors, Sarah and Riley, have already moved on to their next life in Heaven.
The challenge for me was to find a way to bring them together for this family portrait. Armed with good photos, I imagined them together on this hillside. The family loves it!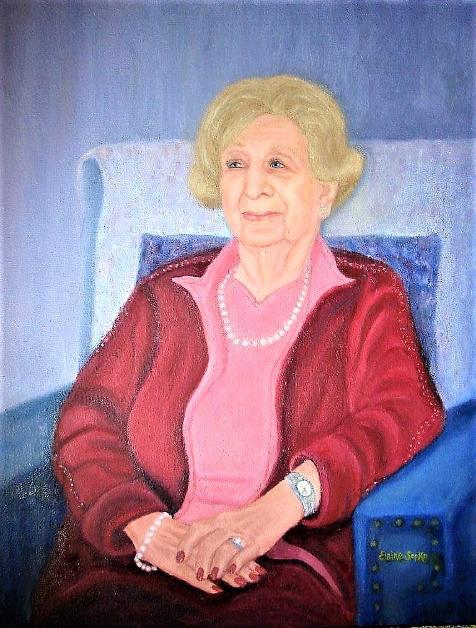 The portrait above is of Irma Koch, and it had a very public unveiling in Lewes, Delaware. My husband and I were blessed to be able to attend Irma's 100th birthday party.


I'm happy to report that it was a huge success. 125 guests helped Irma celebrate her remarkable life with life stories, along with music and dancing at the event. This fine lady had a super time singing and dancing with her family and friends, including the members of her friends from the local Red Hat Society.

Irma sets the bar high for everyone else. Happy 100th Birthday, Irma. Thanks for showing us all how to live a good life.
Featuring Paintings by Local Artists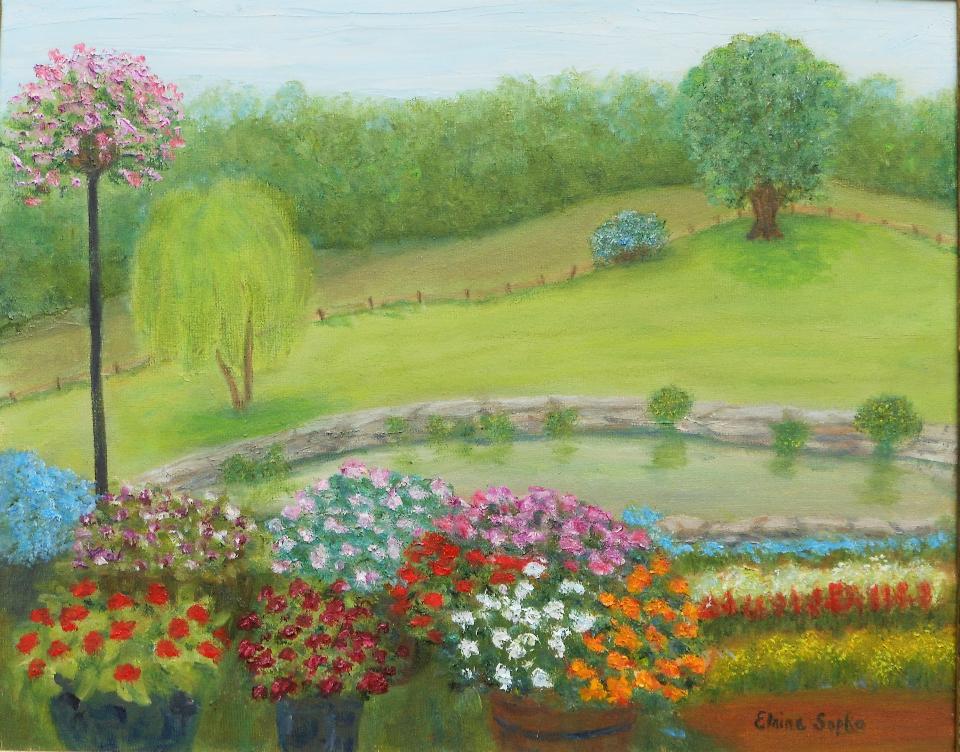 The Come Paint with Me 20th Anniversary opening was a huge success. If you were lucky enough to be there, you enjoyed good company, great wine and food, and wonderful paintings - all 70 of them! Wow, what a positive experience it was. Blessings for Davis Chant and his caring realtors who open their doors to local artists to display their best work in a superb gallery, and donate their time to host these openings.
The painting above has sold and will live in Charleston, South Carolina.
Grey Towers in Milford, Pa. hosted a group exhibition recently. Grey Towers is the National Historic Site maintained and used by the National Forest Service. It's a beautiful mansion with a lot of history, and it is open for the public with guided tours. Please check it out online. You might enjoy visiting in the fall, when the colors are gorgeous!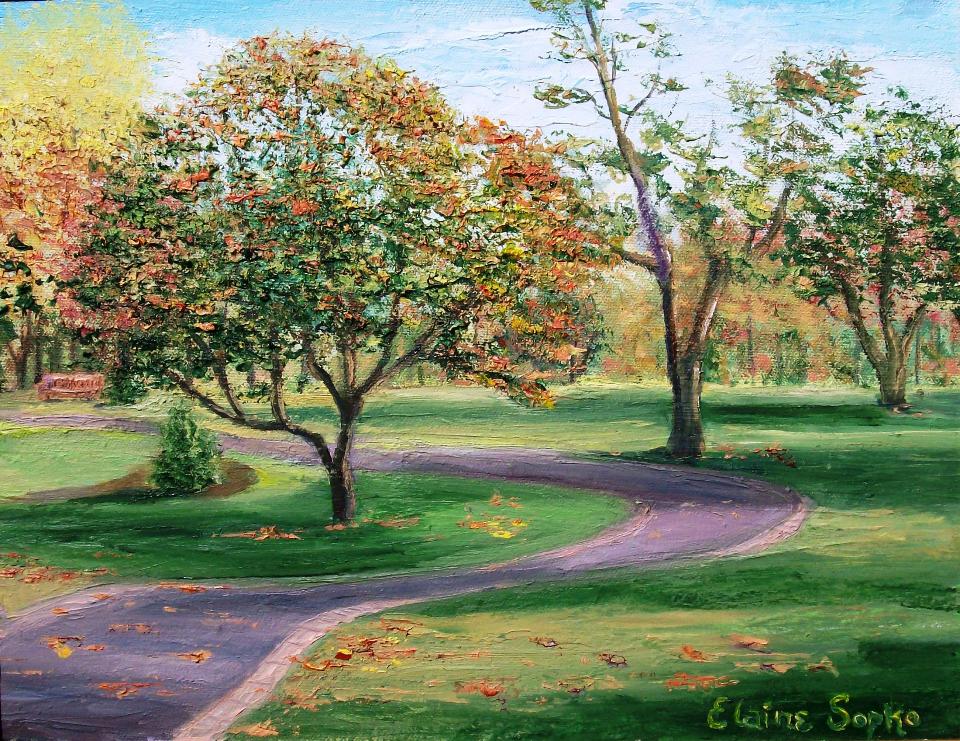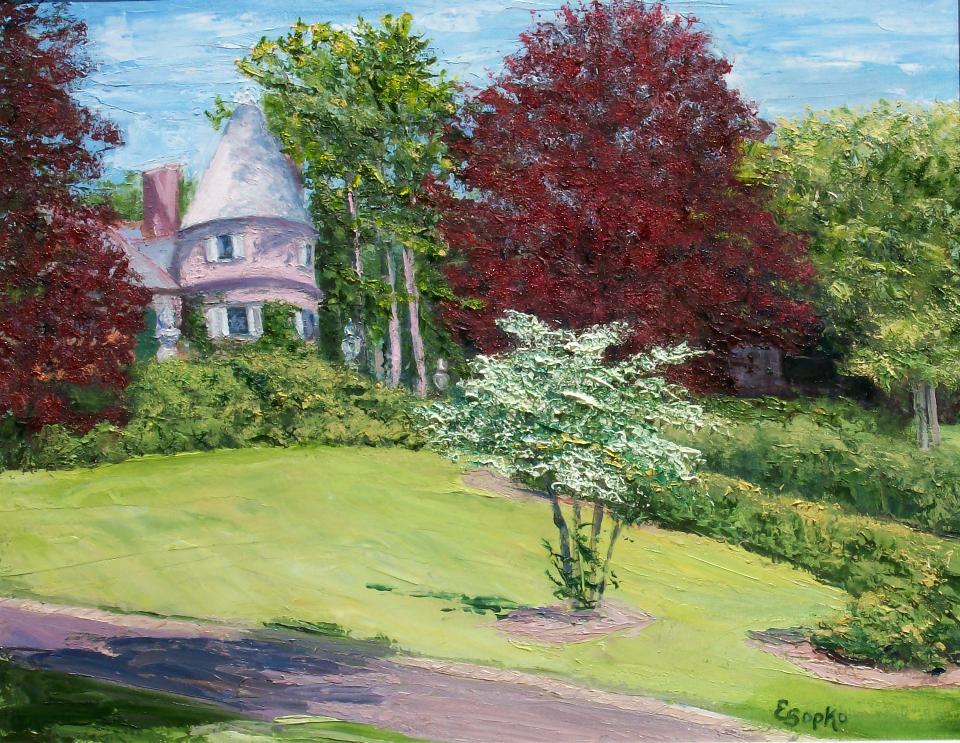 This image has been sold, but I do have 2 or 3 others completed on site at Grey Towers. Check my landscape files if you'd like to see what's available.
What Else is Happening.......
As I reported earlier, I've been submitting my watercolor illustrations to a company which supplies art to a religious organization for their spiritual books and pamphlets.
The other side of this opportunity is I am beginning to acquire a few watercolor paintings which they determined were not suitable to use as background art for the poetry - or, as I've been told: "They are too interesting."
As I said, I'm still learning this skill...
I have added another link to the Paintings page and I will be exhibiting these new watercolor paintings from time to time, along with my oil paintings. If you'd like to check them out, on the Paintings page click on watercolors.
An image of our good boy Cruiser is shown below, checking out the birds outside. We won't be able to part with it, but I could create something featuring your favorite pet....living or deceased if you have good photos.